This colorful dish is super tasty and easy to make. It's a much healthier version than the traditional Spanish Ceviche, which calls for raw fish (no thanks)! In place of the fish, I used this amazing new vegan tuna product from a wonderful company called Good Catch Foods. Developed by the Sarno Brothers (the creative chefs behind Wicked Healthy blog & cookbook), Good Catch Foods has developed an innovative tuna substitute that is vegan, gluten free and non-gmo. It is a shelf stable product that comes in a 3.3 ounce packet that you can eat on the go. It's made of six different legumes and has a flaky texture. It has a seafood flavor and contains omega-3s. No worry about mercury either that traditional tuna can have. They currently have a Naked in Water, Mediterranean, and Oil and Herbs version available. Look for these at Wholefoods by the traditional tuna.
Back to the recipe, this salad only takes a few minutes to make, and it's delicious with tortilla chips. My favorite tortillas are Food for Life Sprouted Corn Organic Tortillas. I just keep them in the freezer and take a few out as needed. They just have a wonderful, authentic flavor. This dish is served cold, or at room temperature, and best with chips!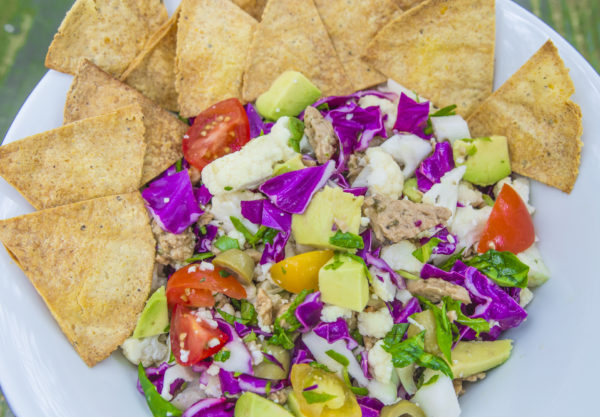 Directions
If making your own tortillas, preheat your oven to 400F. Cut the tortillas into triangles and pop them into the oven on a parchment lined cookie sheet for about 10 minutes.Wash the cauliflower and cut into small pieces. Add the cabbage, tomatoes, cilantro, olives and lime or lemon juice and mix together. Add the package of vegan tuna and season to taste with sea salt. Mix well and serve with tortilla chips.