Taco Tuesday in a different form….tamale pie. All the deliciousness of tacos, but with a corn flour (masa harina) crust. This is truly comfort food for any time of year. Masa harina is a little different than cornmeal, and has a different flavor. It is used in many traditional Mexican and Southwestern dishes. Adding corn and vegan cheddar cheese gives the crust even more flavor and nice texture. A great topping over the seasoned taco mix of lentils and mushrooms. You can substitute black beans or kidney beans for the lentils; and you can swap out the mushrooms for zucchini or sweet potatoes. All are yummy and healthy variations.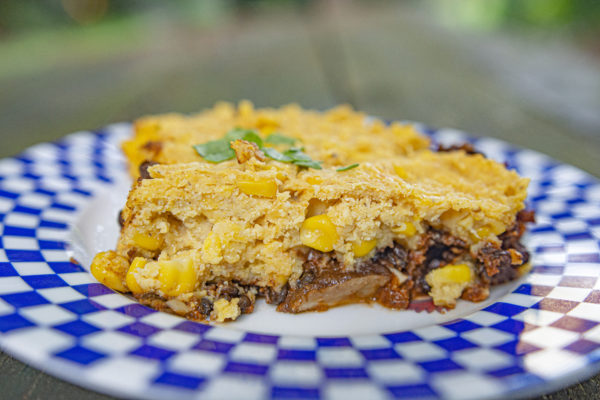 Directions
Preheat oven to 425F. Add your sliced or chopped mushrooms to a bowl with 2 Tbs of liquid aminos (or soy sauce) and 1 Tbs of the olive oil. Toss to coat and place on a single layer on a parchment lined cookie sheet. Roast for about 20 minutes or until slightly browned. In a pan, add 1 Tbs olive oil and the garlic. Saute until slightly browned, then slowly add the veggie broth. Mix 1 Tbs of corn starch or tapioca starch with 2 Tbs water using a small whisk or spoon. Then add this into the pan with a whisk, mixing everything together. Add in the lentils or beans, and mix well over medium heat. Next add in the nutritional yeast, tomato paste and chili powder and combine well. Add in the roasted mushrooms and mix everything together again and set aside.
For the crust, cook the frozen corn on the stovetop or microwave according to package instructions. Drain and add to a large bowl with the remaining crust ingredients. Pour the filling into a pie dish and top with dollops of the crust mixture. Carefully spread the crust mixture over the filling. Place pie dish on a cookie sheet, and cover the dish with foil. Bake at 350F for about 40 minutes. Remove foil and bake for another 10 minutes.