Mashed potatoes always come to mind when I think of comfort food. This recipe is hearty and delicious, and made with no meat (which traditionally sadly is lamb in this recipe); but still has the yummy mashed potato topping. Packed with plant protein, you've got lentils and peas, and it's also gluten free. Another perk is that it's also pretty inexpensive to make and very tasty…just for all those people that say vegan food is expensive. Hope you enjoy this savory dish as much as I do!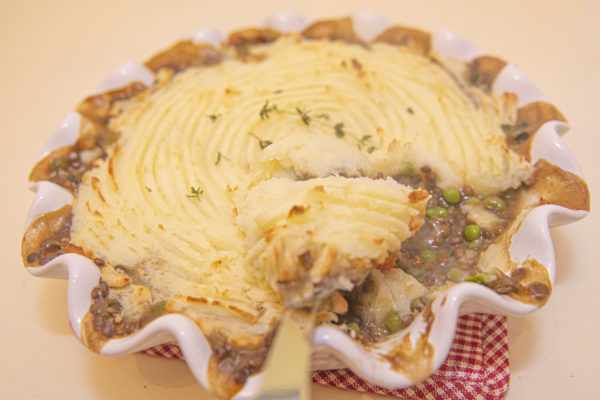 Directions
Cook the lentils and peas according to package instructions. (I just microwave the peas), drain, and set aside when done. Preheat the oven to 350F. Add the olive oil to a pan and add the carrots. Cook on medium heat for a few minutes. Then add the garlic and cook for a few more minutes. Add the broth and continue to cook for about 10 minutes. Add a little water to the potato starch and mix with a whisk in a small bowl. Then add this slowly to your pan, whisking everything together so that the sauce slowly thickens. When the lentils and peas are finished cooking, add them to the mixture in the pan, along with the thyme, and simmer for a few minutes. Turn off the heat from the pan while you make the mashed potatoes.
In a stockpot, add your chopped potatoes and cover with a couple inches of water. Bring to a boil, add a little salt to the pot, and then cook for about 8 minutes or until the potatoes are tender when pierced with a fork. Drain the potatoes when done, return to the pot and mash with a potato masher until smooth. Add the butter and milk, and blend until well combined. Add salt and pepper to taste.
In a ceramic or glass baking dish or pie dish, pour in the lentil mixture, then spread the mashed potatoes on top. Spread the mashed potatoes to cover the lentil mixture, then you can use a fork to make a pattern with the mashed potatoes and give it a nice texture. Place the dish on top of a cookie sheet (to prevent the pie mixture from spilling over into the oven). Bake for about 20 minutes or until the potatoes start to brown.