I love the texture and meaty consistency of mushrooms. They are so versatile and there are many kinds out there. Some can be hard to find; but farmer's markets and grocery stores are starting to carry more varieties as the demand is going up. I got these Lion's Mane mushrooms from our local CSA, The Produce Box. These mushrooms are unusual looking as they really do look like a lion's mane. They are delicate so you just need to wipe them off of any debris instead of washing them like you would with other mushrooms. They have an earthy flavor; but they are mild. If you can't find them, just use whichever mushrooms you prefer. I've found that using a fork to scrape the mushrooms a bit gives them more texture, and allows them to absorb sauces better. This dish was very tasty. It's really the gravy that makes everything come together. Better Than Bouillon makes some great vegan stocks. They are excellent quality and very flavorful. I used their No Beef Base vegan beef broth in this recipe and it was perfect. But I know that their Vegetable or No Chicken ones will work nicely too. The potatoes and carrots come out perfectly tender too. Hope you enjoy this hearty dish as much as I do!
Here with some freshly made rosemary fougasse!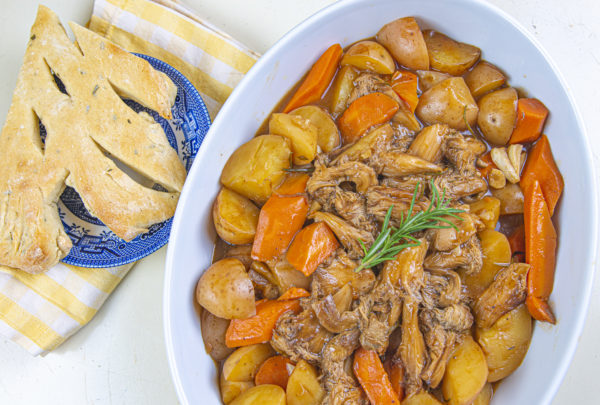 Directions
Preheat the oven to 350F. Season the mushrooms with salt and pepper. In a large oven safe saute pan, add two tablespoons of olive oil to the pan on medium high heat. Add the mushrooms and brown both sides. Remove the mushrooms and set aside. Add the remaining tablespoon of olive oil to the pan and then add the garlic. Saute for about two minutes. Add in the potatoes and carrots, and continue sautéeing. Add in the vegetable stock and cook for a few minutes. In a small bowl, add the flour and about a 1/4 cup water and whisk until blended. Then stir this into your pan. Add in the wine and simmer for about five minutes. Tie the rosemary and thyme together with some twine (or just remove the sprigs after cooking). Cover the pan with a lid and place in the oven for 45 minutes. Take the pan out of the oven and stir in the mushrooms and lentils if using. (Since the mushrooms and lentils are very tender, I didn't want to overcook them, so I added them in later). Place the pan back in the oven for 15 minutes. Test the potatoes and carrots with a fork to see if they are tender. Serve with a side of green peas and fresh bread.