I can't think of a better comfort food than this. This vegan pot pie is packed with delicious veggies in a savory gravy. But to really gild the lily, the homemade puff pastry is just the perfect topping. Puff pastry in itself can take a little time to make; but you can make this portion of the recipe in advance, and have leftover puff pastry to store in your freezer for other use. It takes a bit of planning ahead, but it is well worth the effort. You can purchase store bought puff pastry; but this homemade version definitely has a better flavor. You can also roast the potatoes separately then add later (which is what I did in this recipe). It also saves some time and lets you cook several things at once, particularly if you don't have a lot of cooktop space. I did the same with the mushrooms. I find that roasting some things while other things are cooking on the stovetop in a pan is more efficient. I used four 7-ounce ramekins for this dish. If you don't have these, certainly you can make one large pot pie; but you will probably need to adjust the timing. Individual servings are really fun for this recipe. Hope you enjoy every bite!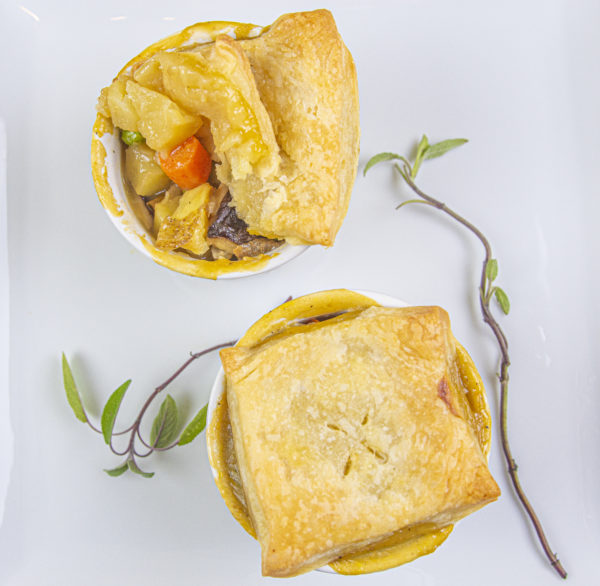 Directions
To make the puff pastry, combine the flour and the salt in a large bowl. Add in the butter and mix together with a pastry blender or fork until well combined. Next, stir in the cold water to form the dough. Gather the dough together and form into a disk. Wrap in plastic wrap or wax paper and place in the fridge for an hour, or 30 minutes in the freezer. Then place onto a floured work surface and roll out into a rectangle. Fold the dough into thirds like you would a fold a letter. Turn a quarter turn, roll out into a rectangle, and fold again like a letter. Repeat this process four more times and then leave in the fridge for two hours or overnight. Cut about one third of the rectangle to use for this pot pie recipe. You can wrap and freeze the rest for future use.
To make the pot pie, start with the potatoes. Add the chopped potatoes to a parchment lined cookie sheet, drizzle with a tablespoon of olive oil, and season with salt and pepper. On another parchment lined sheet, add the mushrooms, and drizzle with another tablespoon of olive oil and liquid aminos or soy sauce. Place both sheets in a 425F oven for about 20-25 minutes until lightly browned and set aside. While the potatoes and mushrooms are roasting, add  the last tablespoon of olive oil to a saute pan on medium high heat. Add in the carrots and saute for a few minutes. Add in the garlic and saute until the garlic is just starting to brown. Add in the marsala if using, and then add in the veggie broth. Simmer until the carrots are tender. In the meantime, cook the peas according to package instructions; drain and set aside. While everything is still simmering in the saute pan, whisk the flour and water in a small bowl. Whisk it into the saute pan and stir everything well to combine. Add in the salt, sage or thyme, and cooked peas. Then add in the cooked potatoes and cooked mushrooms and stir everything together. Simmer together for another couple of minutes then turn off the heat.
Preheat oven to 350F. Divide the pot pie mixture into the 4 ramekins. Cut the puff pastry into 4 squares and top onto each of the ramekins. Cut a few slits in each piece of puff pastry to vent. Place the filled ramekins on a foil or parchment lined baking tray. Bake for about 25 minutes or until the pastry is golden brown and flaky. Serve hot.