Manicotti was always one of my favorite dishes to order in Italian restaurants. This vegan version is deliciously homemade, from scratch: the manicotti "shells" (which are actually crepes); the sauce; and the ricotta. It does take some planning since it takes some time to make the crepes. You also need to soak the cashews for the cashew ricotta; but these things can be done a day in advance. You can also use store bought sauce; but making your own is always best. This dish will make 8 manicotti.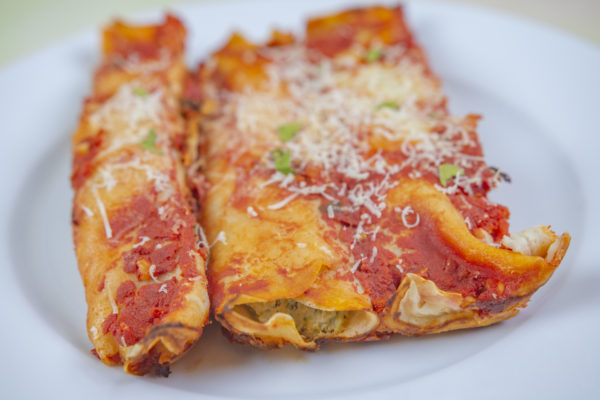 Directions
To make the crepes, add the flour, cornstarch, salt, oil, milk and water to a large bowl. Mix well with a whisk. Heat a non-stick crepe pan or skillet on medium heat (not too hot). Add a small amount of butter or oil to the pan. When hot, add a 1/3 cup of the batter to the pan and immediately pick up and turn the pan around so that the bottom is coated in a thin layer of the batter. Cook for a couple of minutes until the batter seems more dry, and then carefully turn over the crepe with a spatula and repeat on other side for about a minute. Remove crepe with a spatula and set aside on a dish. Add a touch more butter or oil as needed and repeat with remaining batter. Set the crepes aside.
To make the ricotta, drain the cashews and add them to a high speed blender or food processor, along with the nutritional yeast, salt, garlic powder and water. Process until it has the consistency of ricotta; but don't over process or it will be more like a cream consistency. Then optionally, you can add that mixture to a large bowl, and mix in the parsley if desired, using a large spoon or spatula. Set aside in the refrigerator until ready to use.
To make the sauce, add the olive oil and garlic to a pan on medium heat just until the garlic starts to slightly brown. Add the tomatoes, salt, oregano and bayleaf, then simmer for about 20 minutes. Remove the bayleaf and set aside.
Preheat oven to 400F. Place about half of the tomato sauce in the bottom of a lasagna pan. Now you can assemble the manicotti. With each crepe, add about 1/3 cup or so of the ricotta filling in a line and carefully roll up. Place seam side down in the lasagna pan. Continue filling the rest of the manicotti. Cover the manicotti with the remaining sauce. Top with grated cheese if using. Cover the dish in foil and bake for 40 minutes. Then remove the foil and bake for another 10 minutes. Serve hot.