These vegan crab cakes are savory and flavorful. They have a very similar texture to traditional crab cakes. Perfect with this creamy cashew dill dressing, you can serve them as a main course with some potatoes and veggies; or serve as an appetizer. They'd also be great as a sandwich!
Makes about 5 crab cakes.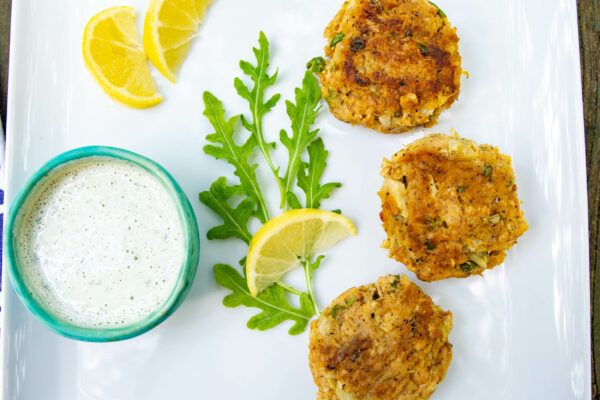 Directions
Cut the artichoke hearts if half if they are whole or if they are not quartered. Add to a food processor with the horse radish. Pulse a few times to combine. To a large bowl, add this mixture, along with the mustard, worcestershire sauce, parsley, Old Bay seasoning, dulse flakes and salt. Add in 3/4 cup to 1 cup of the breadcrumbs and stir to combine. Place bowl in the refrigerator for about 15 minutes to set.
In the meantime, to make the dill sauce, add the cashews, water, lemon, garlic and salt to a high speed blender. Blend until smooth. Add in the dill and blend just a few seconds more to combine.
Add about two tablespoons of oil to a pan on medium heat. Give the pan a few minutes to get hot. With an ice cream scoop or spoon, scoop out the artichoke mixture and form into patties. Gently place the patties in the pan, allowing enough space for each. Cook for about four minutes per side until golden brown. Serve warm with the dill dressing.