Coquilles St-Jacques are traditionally scallops, and the original French dish has them poached in white wine, placed over puréed mushrooms and then gratinéed under a broiler. Using the same technique but with all mushrooms still makes it a savory and delicious appetizer. King Oyster mushrooms are the "scallops" here. It is really incredible how the mushroom stem, when sliced, looks just like a scallop. And it has a similar texture too. These mushrooms have a very nice flavor and make a great presentation. The savory flavors of the mushrooms and the sauce is wonderful. The bayleaf really adds to the depth of flavor too. I happen to have these shells to use for serving; but you can also use ramekins. They will be in the broiler for a few minutes, so just make sure you have something that can withstand that temperature.
Makes 4 servings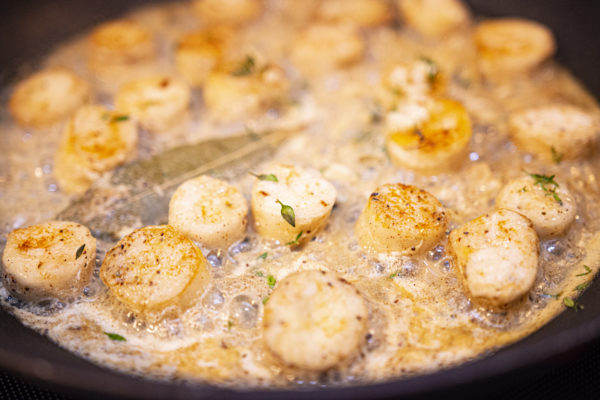 Directions
Add the butter and olive oil to a pan on medium to high heat. Add in the cremini mushrooms and cook until starting to brown. Add in the garlic and thyme and continue cooking until the mushrooms and garlic are softened. Add in some salt and pepper to taste. Remove from pan and set aside. Sprinkle the king oyster mushrooms with salt and pepper. Add the flour to a separate small bowl, and dredge the king oyster mushroom slices in the flour, a few at a time, shaking off the excess flour. In the same pan that was used for the cremini mushrooms, add a little more butter and olive oil if needed, and when the pan is hot, add in the king oyster mushrooms. Give them space to brown a little on each side, flipping over after a few minutes. Slowly add in the white wine and milk. Then add in the Old Bay Seasoning, salt and bayleaf. Stir to combine. Heat until the liquid is bubbling; then simmer for a few more minutes until the sauce has thickened. Remove the bayleaf with tongs, and turn off the heat.
Set your oven to broil, and arrange 4 small dishes on a foil lined baking sheet. Divide the cremini mushroom mixture among the four dishes. Then top each with the king oyster mushroom mixture. Sprinkle with the cheese and place under the broiler until browned on top, about 2-3 minutes. Garnish with thyme.