"Necessity is the mother of invention" – Plato
I am super excited about this recipe! It's probably been decades since I've eaten a cannoli. I used to like them; but they always tasted too heavy. Then around the holidays, I had been looking for vegan cannoli to purchase, and nothing available was nearby. Even the shells that you can buy online were not vegan. So…I decided to try and make my own. Well, they were absolutely delicious and everyone that has tried them has enjoyed them. They are just the right size and make an attractive presentation. The shells are baked; not fried, and crispy. The filling is delicious with that fresh orange zest. Just like traditionally made cannoli, you don't want to fill them until you are ready to serve – or fill them an hour or two before serving, keeping them in the fridge; just so the shells don't lose their crispy texture.
You will need to purchase the cannoli forms; which are stainless steel tubes that you can find at cooking stores or online. They're usually sold in a set of four. You will also need a large round cookie cutter that's about 4″ in diameter – or the lid of a large jar will work too.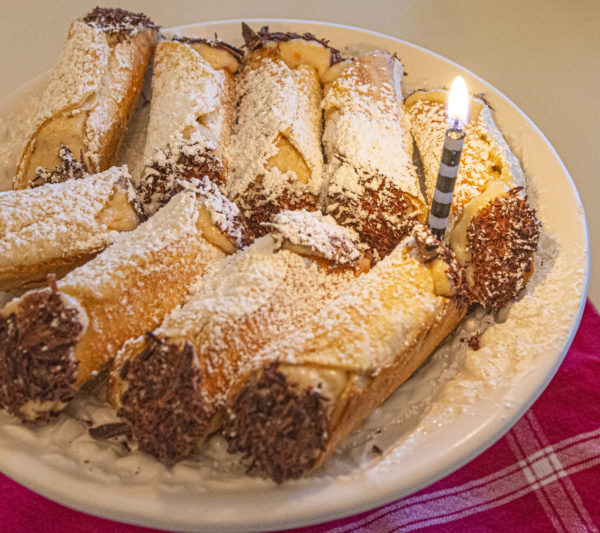 Directions
Preheat oven to 350F. With the round cookie cutter, cut about 12 circles from the flour tortillas. In a shallow bowl, combine the plant milk, maple syrup and vanilla. Dip each tortilla circle into the plant milk to coat. Grease and flour the cannoli tubes; then fold the tortilla around the tube, making sure it's sealed like a burrito. Repeat with the rest of the tubes and place seam side down on a parchment lined cookie sheet or silpat covered cookie sheet. Bake until golden brown, about 15 minutes. Let the tubes cool for a few minutes; then gently twist the shells off of the tubes. Set the shells aside. Repeat the process again until you've used up all the tortillas.
To make the filling, combine the almond flour, milk, lemon juice and maple syrup and blend well with a spatula. Then mix in the cream cheese, confectioners sugar, vanilla, orange zest and cinnamon until everything is well combined. Put some of the filling into a pastry bag or plastic bag with the corner cut off. Pipe some filling at one end of the cannoli shell; then fill the other side. Continue filling the rest of the shells. (You may have some leftover filling, so you can make more of the shells if needed. Just keep them in an airtight container on the counter for a day or two, and fill when ready to serve). Place the chopped chocolate into a small bowl or dish. Dip the filled cannoli into the chocolate on each end. Dust with some confectioner's sugar and enjoy! Save any leftover filling to spread on toast!