This bread of French origin is much like a pastry with it's rich buttery flavor. Worth it just to make the house smell amazing! Homemade bread any day is great for me, and this vegan version is just as delicious as the traditional version. No dairy and no eggs. All yummy!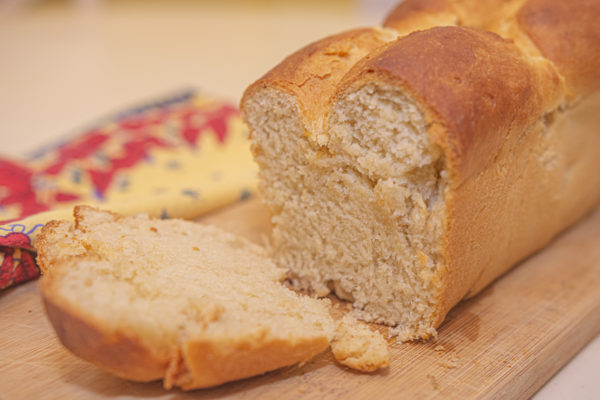 Directions
Warm the milk in the microwave or stovetop briefly and add the yeast. It should start to foam a little after 5-10 minutes. Next add the flour, aquafaba, sugar, and salt to the yeast mixture and mix well with a spoon or spatula. Melt the butter and add to the mixture. On a lightly floured surface, take out the mixture from the bowl and knead for about 5-8 minutes. You can also use a stand mixer with a dough hook if you have one. Form the dough into a ball, place in a bowl, cover with a damp towel and keep in a warm spot for about an hour and a half. After that amount of time, the dough should double in size. Punch the dough down, knead a few more minutes, place back in the bowl and cover again with the towel. Give it about another hour to rise.
After the second rise, preheat the oven to 375F and cut the dough into 4-6 evenly sized balls. Grease a loaf pan with some butter. Place the balls of dough evenly in the loaf pan, stacked next to each other evenly. Brush the top of the dough with a little milk. Bake for 3o minutes until the top is golden brown. Enjoy warm as is or spread a little with a little jam.