We all love comfort food, and homemade biscuits definitely fall into this category. These are kind of dense and buttery, and you can enjoy them just as they are, or have them as a side with gravy. Had some of these biscuits pictured here with some Road's End Quick Gravy, baked tofu and roasted purple cabbage. So delicious! You can freeze them and take out portions as you like. Enjoy!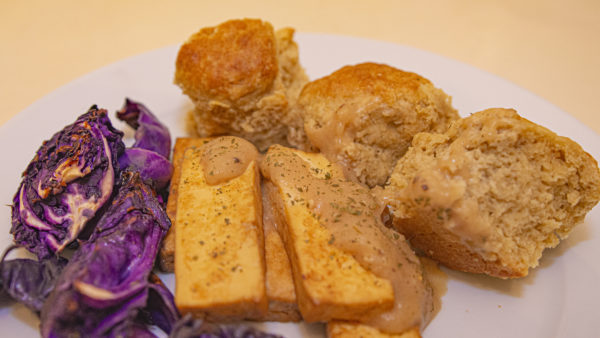 Directions
Warm the milk just a bit in the microwave or on the stove. Pour it into a bowl, add the yeast and 1 teaspoon of the sugar, mix and set aside. It should start to foam in a few minutes. Next, combine the egg replacer and water in another bowl. Mix well with a whisk and set aside. In a large bowl, add the flour, the rest of the sugar and the salt, and mix together. Add the yeast mixture and egg replacer to the flour mixture, and mix until well combined. (I did all of this by hand with a large spatula – but you can use a stand mixer too). Cut the butter into smaller pieces, then add it into your bowl. Mix with a pastry blender or fork. Form the mixture into a ball, place in a large bowl, cover with a damp towel and leave in a warm place for about an hour. The dough should be about double in size by then. Tip: place the bowl in an unheated oven, along with a small pot of boiling water. This will help the dough to rise a little faster).
Next, punch the dough down and knead it a little on a lightly floured surface. Cut the dough into about 16 equal parts to make each of them into a ball. Lightly grease a baking pan with some of the butter. Place the balls of dough evenly into your pan, cover again with the damp towel, and give them another 45 minutes to rise. Remove the towel, preheat your oven to 350F, and bake them for about 25 minutes, or until golden brown on top.