Chickpea battered cauliflower florets stand in for the fish in these popular street style Baja tacos. They're vegan, gluten-free, oil free, and taste great baked. No need to fry. They are crispy and a healthy, low fat alternative to the traditional fried version. Chickpea flour (or garbanzo bean flour) adds more protein to your dish. The brine in a can of chick peas, known as aquafaba, is a great egg substitute and is easy to use for preparing the batter. You can also just use breadcrumbs (gluten free too), and just some plant milk, instead of the aquafaba. Old Bay seasoning adds a little sea flavor to the dish; but you could alternatively use dulse flakes. Bring a little California to your kitchen with these tasty tacos.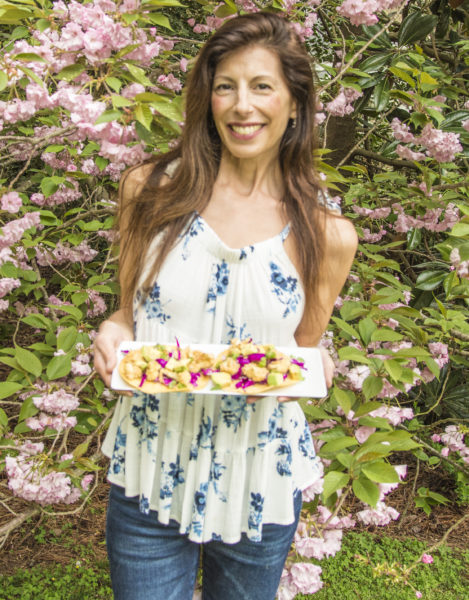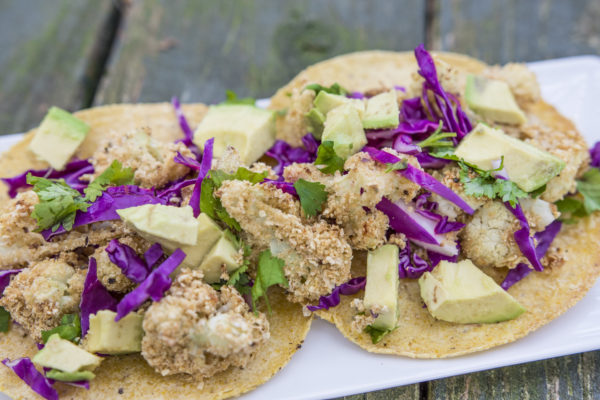 Directions
For the tacos
Preheat the oven to 375F. Microwave the frozen cauliflower according to directions (or wash and cut a small cauliflower into florets) and set aside. For the batter, mix together the chickpea flour, Old Bay Seasoning, garlic powder, and sea salt in a large shallow bowl. Drain the can of chick peas and pour the aquafaba into a separate shallow bowl. Dip the cauliflower into the aquafaba, then coat it in the chickpea batter; then repeat once more. You'll want to use a fork in each dish to help coat everything together. Add a little water or plant based milk to the aquafaba if needed. Next, place the battered cauliflower pieces in a single layer on a parchment lined baking sheet. Bake for 15 minutes; flip the pieces over and then bake for about another five minutes.
For the slaw
In a medium bowl, whisk together the lime juice and agave nectar. Stir in the cabbage and cilantro. Mix well.
To assemble the tacos, warm the tortillas in a skillet on medium low heat for about 15-20 seconds on each side; or if using taco shells, warm in the 375F oven for a few minutes. Add the cauliflower to the tortillas and top with the slaw. Top with some fresh avocado.