Beet powder gives these treats a little red color; but is also healthy for your pup! Peanut butter and purple sweet potato is our pup Dylan's favorite. I had the purple sweet potatoes from our local CSA, The Produce Box, and decided to use them in this recipe. The purple sweet potatoes are nutrient dense and a beautiful deep purple color. They have a more dry consistency than the orange sweet potatoes, so if substituted for the regular sweet potatoes, the consistency will be different and you will need to adjust the other ingredients. You can freeze them and take out a few at a time.
Makes approximately 36 small treats.
Dylan getting lots of love…and treats!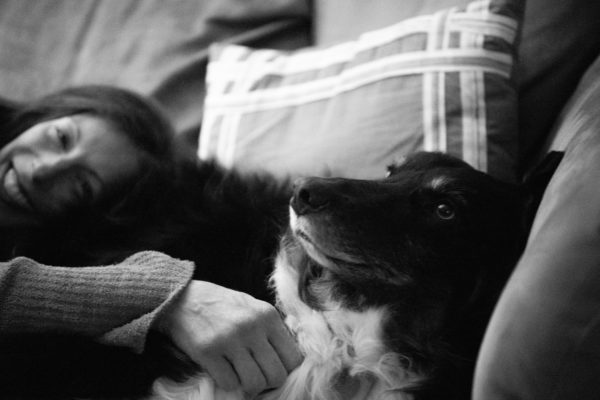 Directions
Pierce the sweet potato several times with a fork, and microwave in a microwave safe bowl for about 7 minutes or until tender; turning halfway through cook time. Set aside to cool. Preheat oven to 350F. When cool enough to handle, add the sweet potato and the remaining ingredients to a food processor. Process until a dough is formed. Move the dough to a countertop and roll out to about 1/4″ thick or slightly less. Use a cookie cutter to cut out the dough into shapes. Place the treats on a parchment lined cookie sheet about an inch apart. Bake for 25 minutes. Cool before serving to your pup.