Who doesn't love cheesecake? But the saturated fat and heavy dairy of the traditional version are not so appealing. This raw vegan version is still decadent in taste; but made with cashews. It's so amazing how cashews get so creamy when you soak them in water. With just a few other ingredients and fresh blueberries, this cheesecake requires no baking and is simple to make. The fun thing about raw vegan desserts is that you can taste them as you're making them (no raw eggs for example), so this is a good way to gauge if it needs more of any particular ingredient. A nice warm weather treat to prepare without even turning on the oven. Looks pretty too!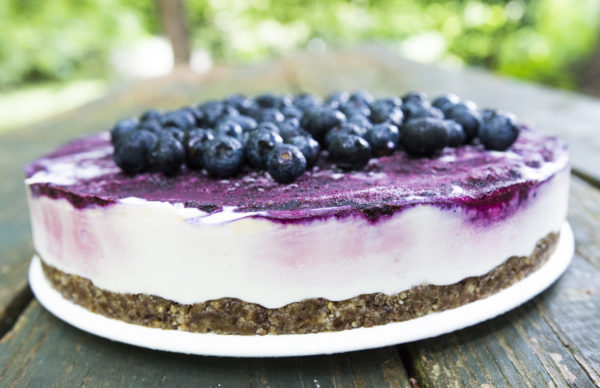 Directions
This recipe is made for a 9-10″ springform pan or 8-9″ round cake pan, so you can adjust where needed for the size pan you are using.
Lightly coat the bottom and sides of a springform pan with coconut oil if using (or line a cake pan with parchment) and set aside. Start with the crust, and place the dry pitted dates and walnuts in the food processor and process until combined into a sticky mixture. Spread the mixture into the pan and press it down evenly. Place in the freezer while you're making the filling.
Drain the cashews and place them in a blender with the water, lemon juice, coconut milk, vanilla and maple syrup. Blend until very creamy. You may need to add a bit more water if it's too thick. Take the crust out of the freezer and pour the cashew mixture on top of the crust, spreading evenly. Next, for the puree, place the frozen blueberries in a food processor with the maple syrup and lemon juice to obtain a nice puree consistency. Spread the puree over the filling and freeze for about three hours.
When ready to serve, take the cheesecake out of the freezer and top with the fresh blueberries.  Leave it at room temperature for about fifteen minutes before serving so that it will cut more easily.