I am one of those people that loves everything pumpkin. Of course, especially during the Fall and around Halloween. Just adding a bit of pumpkin purée to the ricotta gives it a nice flavor, and it's a fun and yummy way to get a little more vitamin A into your meal. I'll sometimes add a little pumpkin to my pup Dylan's food. It's easy on digestion and very healthy. So if you don't know what to do with that partial can of pumpkin in your fridge, add a little to your next pasta dish!
Here I am refusing to believe that Halloween is over! Elvira costume and magical pumpkin…along with my new black and white check pumpkin apron; a little gift from my parents. Thanks Mom and Dad!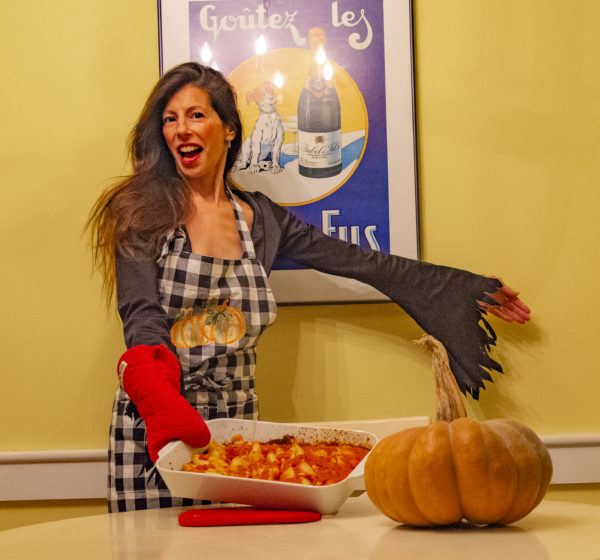 Directions
Preheat oven to 400F. Make the pasta shells according to package instructions. While you're waiting for the pasta to finish cooking, make the ricotta. Mix together the flour, 1/2 can of pumpkin purée, milk, nutritional yeast, lemon juice, garlic powder, salt and basil. Season to taste to see if it needs more of anything. When the pasta shells are done cooking, drain and place them on a cookie sheet to cool. Spread about half of the sauce into a baking dish, fill the shells with the ricotta mixture, and place them into the dish. Top the shells with the rest of the sauce, cover in foil and place in the oven. Bake for about 30 minutes.