An easy appetizer, this spread is savory and a great with crackers. I made some homemade rosemary crackers, and they were the perfect compliment to the mushroom walnut spread. This spread also works well on sandwiches. Great flavor and texture, and simple to make. I also made a version of this recipe using sunflower seeds in place of walnuts, which is terrific for anyone with nut allergies. Both versions are delicious and gluten free!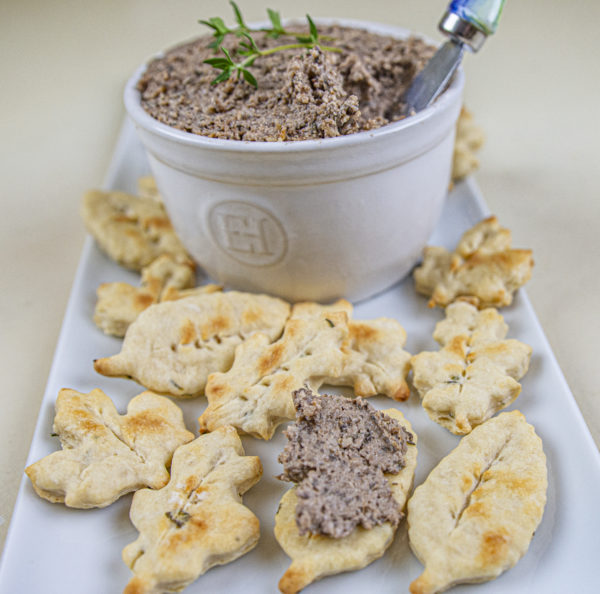 Using sunflower seeds in place of walnuts in this video:
For the Pâté
Heat the olive oil in a pan on medium heat. Add the mushrooms and cook until lightly browned. Add in the garlic and cook for about another minute. Then add the white wine, thyme and salt, and simmer for about 15 minutes. Remove from heat and let cool. When cooled, add this mixture and the walnuts to a food processor. Process until you have a paste, adding in a little water as needed for proper consistency. Pour mixture into a container and place in the fridge until ready to serve.
For the Crackers
Preheat oven to 450F. Combine the flour, rosemary, salt, sugar, and olive oil to a food processor and pulse until combined. Add the water until you start to form a dough. Remove the dough from the food processor. Roll the dough into a ball, and divide into 4-6 pieces. Roll out a piece very thinly (about 1/8″ thick) while covering the other pieces with a slightly damp towel until ready to roll out). You can then either cut into squares or use cookie cutters to make different shapes. Arrange in a single layer on a parchment lined cookie sheet. Pierce each cracker with a fork so that they don't puff up in the oven. Place in the oven and bake for about 5 minutes. Then turn over each cracker and bake for another 3-5 minutes or until just starting to brown and crispy.