This leaf shaped bread is from the Provence region of France, and has a mix of herbs, olive oil and salt. I just used rosemary to keep it simple in this recipe; but you can also add thyme, garlic and olives. It is a simple bread with an attractive, organic looking presentation. It has a nice crispy crust and it's soft on the inside. It's best when it is just out of the oven, and delicious served warm with some olive oil and salt for dipping.
Here is a Christmas Tree version I made too!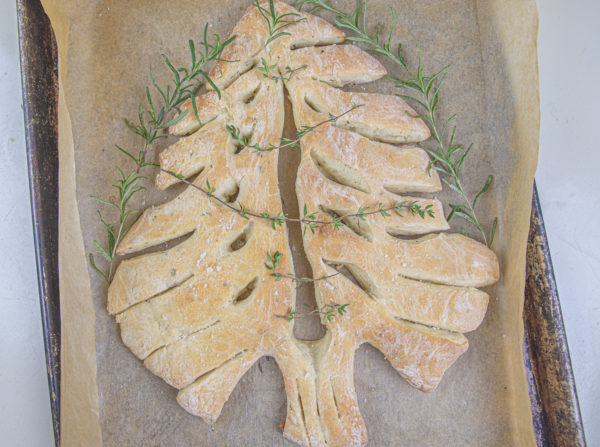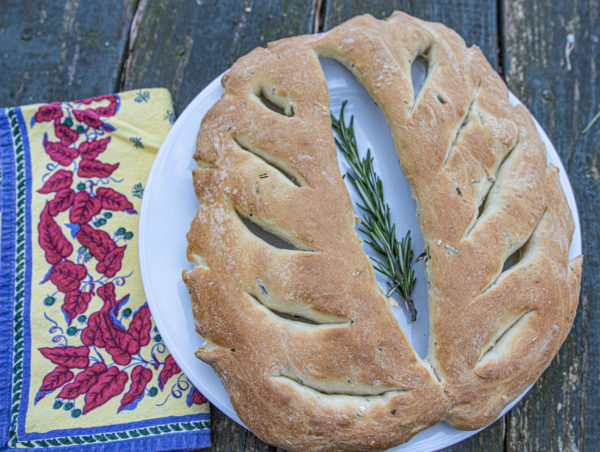 Directions
In a large bowl, mix the water, yeast and sugar. Let it stand about 10 minutes until the yeast starts to foam. Then mix in the flour, salt, olive oil, rosemary (and thyme if using). On a lightly floured surface, knead the dough about 8 minutes and form a ball. Place in the large bowl with a little olive oil to coat. Cover with a damp dish towel and place in a warm area for about 1 1/2 hours until the dough has doubled in size.
Next, preheat the oven to 425F. Split the dough into two equal sections with a pastry cutter/scraper. Make each into a ball and roll out to an oval shape about 1/2″ thick. Set each of the pieces of rolled dough onto two separate parchment lined baking sheets with some cornmeal dusted on top to prevent any sticking. With the scraper or a knife, cut a long slit down the middle of each, leaving about 1″ border at the edges. Then cut about 4 or 5 angled cuts on each side and make a few small slits on the edges to create the look of a leaf. Open up the slits a little to form the shape however you like. At this point, you can brush the breads with olive oil and sprinkle with salt or chopped olives before baking. Bake each bread separately for best results, for about 15 minutes or until golden brown.