After trying another quiche recipe using garbanzo bean flour and it being a little too dry, I tried out this other version using tofu. It was so delicious and the texture and consistency was just right. Most quiches have a crust; but this one kind of had it's own "crust" anyway with the way the tofu mixture cooked more well done at the edges. One of the key ingredients in giving the dish an egg flavor is Kala Namak Indian Black Salt. It's actually a pink colored salt and is a special type of Indian mineral salt that has a very distinctive sulfurous mineral taste. You can find it online and a little goes a long way. I think this dish might be best made a day ahead so that it has time to sit in the refrigerator over night. Even cold, I thought this dish was very tasty. But then again, I love cold pizza too so, maybe it's just me.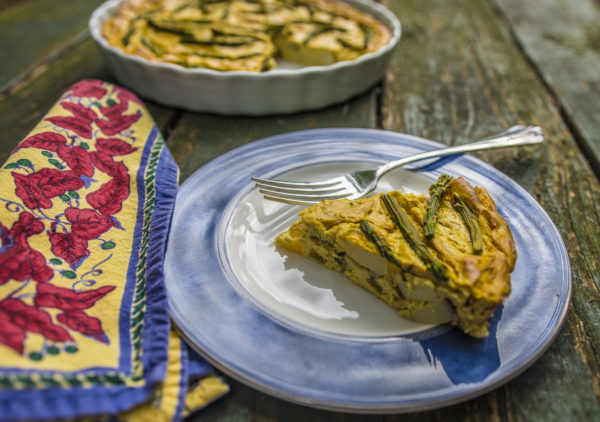 Directions
Preheat the oven to 375F. Heat the oil in a pan on medium heat. Sauté the potatoes for a few minutes and then add in the zucchini and the garlic. Add in the chopped asparagus. Continue to cook for a few more minutes until softened. You can put a lid over your pan for a few minutes also to help speed the process. Season with some salt and pepper to taste and set aside. (I reserved some asparagus after cooking to add on top of the dish before putting in the oven).
Add the remaining ingredients (except for the coconut oil) to a blender or food processor. Blend until smooth and taste to see if it needs more of any of the ingredients. Next, add the tofu mixture to the pan of vegetables and mix well with a spatula. Lightly grease the bottom and sides of a quiche dish or pie dish. Pour the entire mixture into the greased dish and smooth out with a spatula. Arrange the reserved asparagus on top of the quiche. Bake for about 40 minutes. Let it cool about 10 minutes before serving.