This dish is very similar to another favorite of mine, Hasselback potatoes. Thinly sliced potatoes with butter, herbs and salt. So delicious and simple, what's not to love! Total comfort food that is perfect for holiday gatherings or any dinner. Would also be a nice leftover for brunch. A mandolin is very helpful for slicing the potatoes evenly and thin; but I used a blade attachment on my food processor that is meant for slicing. It was very easy and fast this way.
Alternatively, you can also use sweet potatoes instead of Yukon gold or other white potatoes. This version of orange and purple sweet potatoes was very good too.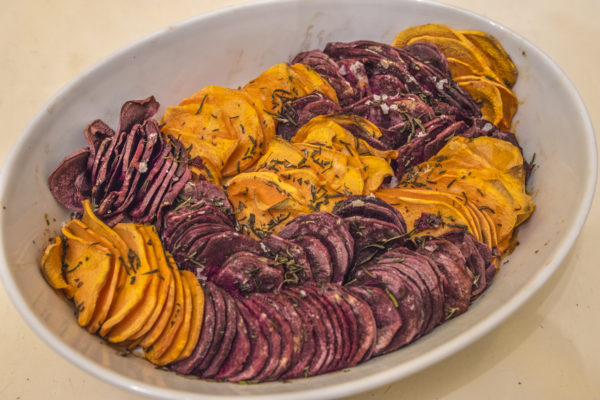 Directions
Preheat an oven to 375°F. Peel the potatoes (or you can scrub them and leave the skin on). Slice thinly with a sharp knife to about 1/8″ thick; or use a mandolin, or slicing blade on a food processor. Pour a little of the melted butter to coat the bottom of a glass or ceramic dish. Arrange the potato slices at an angle to fill the dish. Pour the rest of the melted butter over the potatoes and sprinkle with the rosemary and sea salt. Roast in the oven for about an hour until the edges of the potatoes are a little browned and crispy.