Everyone is a fan of mac and cheese! This recipe is really creamy and savory, and has been a big hit with family and friends. This recipe is gluten-free; but you can use traditional pasta if you wish. I used two of my favorite vegan cheeses in this recipe: Miyoko's and Follow Your Heart brands. But there are so many vegan cheeses out there now, and of course, you can even make your own at home. Miyoko's Sharp English Farmhouse has a little tartness; the Follow Your Heart Smoked Gouda has a little smoky flavor. These two make almost a gruyere type of combination which is really delicious. Hope you enjoy every bite!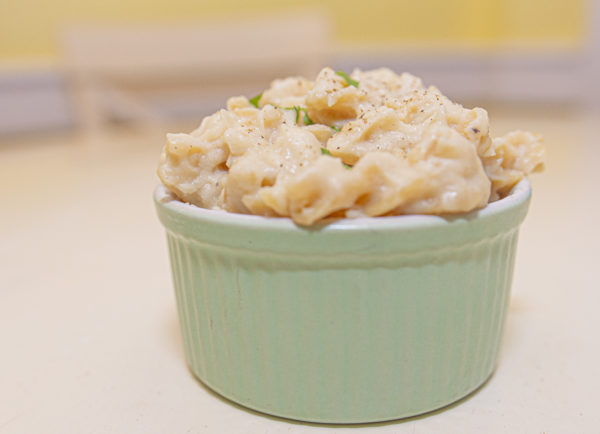 Directions
Bring a large pot of water to a boil on the stove. Meanwhile, while you're waiting for the water to boil, shred the cheeses and set aside. In another pot, add the butter and warm on medium heat until it starts to melt. Add in the flour and stir to form a paste (roux). Add in the milk and keep stirring with a spatula or whisk. Next, add in the cheese and continue to stir well until smooth. Taste first to see how much salt you'd like to add. You can easily over do it with the salt, depending on the types of cheeses you're using. About a teaspoon seemed to work well with the cheeses I used. At this time, you can also add in the ground nutmeg, lower the heat and continue to stir.
When the water is boiling, add a teaspoon of salt to the water and add the pasta. Cook the pasta according to package instructions. The gluten free pastas tend to take less time to cook and you don't want to overcook them. Turn the heat off of the cheese sauce and continue to cook the pasta until done. When the pasta is done cooking, drain the pasta, and add it to the pot of cheese sauce. Mix well to make sure every bit is coated with the sauce. Serve warm and dig in!