When I was visiting San Francisco last year, I was intrigued by this popular dish called Cioppino, that originated in this city. It inspired me to create a vegan version using some of the fundamental ingredients that make up this dish. Cioppino means "chopped" in Italian, and this Italian American stew is traditionally made with the catch of the day from fisherman on the bay. This is similar to a bouillabaisse; however, there is more emphasis on the rich tomato flavor and fennel. My version is made with mushrooms, potatoes and artichokes. I opted for fennel pollen instead of fennel seeds since I like the smoother flavor of the fennel pollen. It can be hard to find, so you can certainly use fennel seeds. I also chose to use tomato paste in place of the crushed tomatoes. The paste adds a touch more sweetness. It's really just a matter of taste. You can even use both the crushed tomatoes and some tomato paste too. Served along with some crunchy, toasted bread, it is a hearty, flavorful treat. I don't know about you, but I love dipping crispy bread into a good sauce! You can also add in some beans or lentils if you wish.
View from the Bay – San Francisco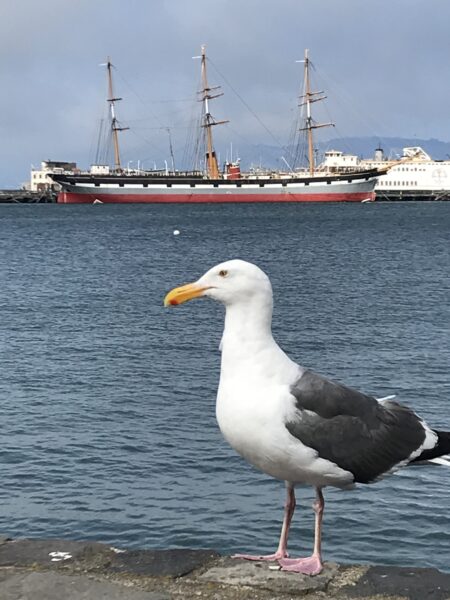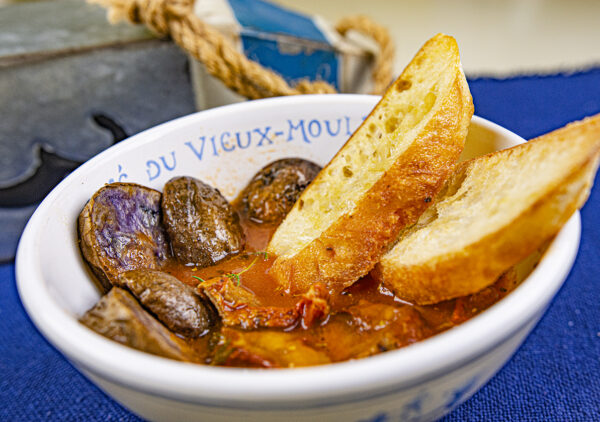 Directions
In a large stockpot, set to medium high heat and add two tablespoons olive oil. Add in the diced fennel and sliced garlic. Sautée for a few minutes until the garlic is just starting to brown. Slowly add the wine and vegetable stock and stir. Add in the tomato paste or crushed tomatoes, and reduce the heat to simmer. Add in the fennel pollen or fennel seeds, red pepper flakes and Old Bay Seasoning and stir. If you have a salty vegetable stock, you may not need more salt. Add salt and pepper to taste as needed. Continue to let everything simmer.
In the meantime, heat oven to 400F. Add the potatoes to a parchment lined baking sheet and drizzle with one tablespoon of the olive oil. Roast the potatoes for 3o minutes until lightly browned. Also add the mushrooms and artichoke hearts to another baking sheet, and drizzle with the remaining tablespoon of olive oil. The mushrooms and artichokes might only need 25 minutes until lightly browned. Just check on them so they don't burn. When the potatoes, mushrooms and artichoke hearts are done roasting, remove from oven and set aside.
Add the sliced baguette to a parchment lined cookie sheet, drizzle with olive oil and season with salt. Place in the 400F oven for about 8-10 minutes until just starting to brown. Then remove from oven and set aside. Remove the stew from the heat and add in the potatoes, mushrooms and artichokes. Serve in individual bowls with some toasted baguette slices. Sprinkle with parsley or basil.