Who doesn't love chocolate chip cookies?! These are so tasty and such a treat. You're really only swapping out regular butter for plant based butter, and vegan chocolate chips in place of the traditional chips. But one ingredient is very unsuspected; yet very likely in your pantry. It's aquafaba. Which is really only the liquid from a can of chick peas. It doesn't change the flavor of the recipe, but it's unique chemistry is the perfect egg substitute for baking. Sounds weird maybe, but it works! These cookies have been tested by friends and family, and everyone loves them. Enjoy!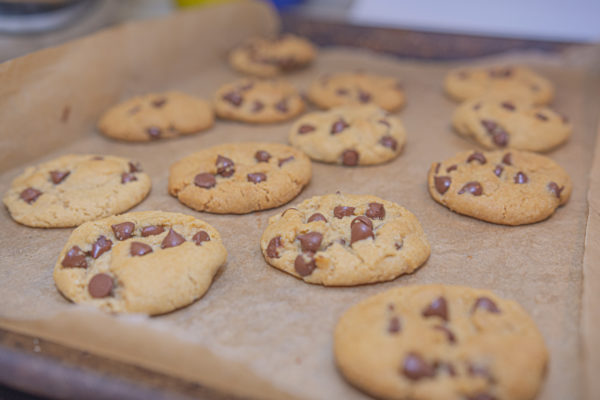 Directions
In a medium bowl, stir together the flour, baking soda, and salt. Place butter, granulated sugar and brown sugar into a large mixing bowl. Beat at high speed with an electric mixer until fully blended. Beat in the vanilla and aquafaba, until mixture is light and creamy. Next, add the flour mixture slowly, about 1/2 cup at a time, beating fully into the butter mixture between additions. Fold in chocolate chips. Wrap the dough in plastic and place into the refrigerator. Chill for at least 1 hour to firm.
Preheat oven to 375° and line baking sheets with parchment paper. Scoop the dough onto the prepared baking sheets, using about 2 tablespoons of dough per scoop and leaving about 2 to 3 inches between scoops. Bake until cookies are lightly browned around the edges, about 10 minutes. Transfer the cookie sheets to cooling racks to cool.