This is a Provençal French appetizer that is traditionally made with salted cod and potatoes, and whipping them with garlic, olive oil, and milk. My vegan version is savory and delicious, and a fun appetizer to share. I love the texture and flavor of horseradish, so this was my salted cod substitute. The creaminess of the vegan cream cheese base adds a slight tangy flavor. Blended together with potatoes, topped with the parmesan and baked…delicious! I hope you enjoy this dish at your next gathering.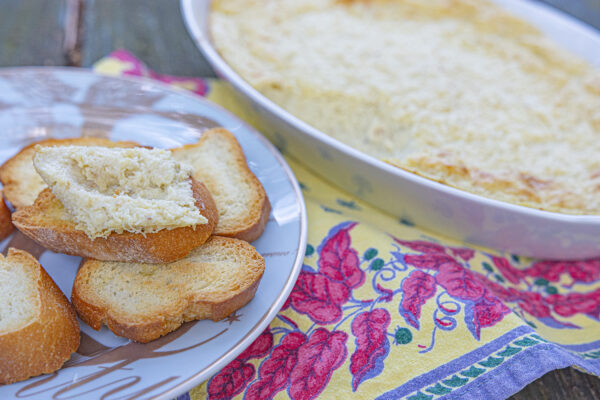 Directions
Add the potatoes to a large pot and cover with about an inch of water. Cover the pot with a lid until boiling. Boil potatoes until tender, about 12 minutes. Drain and set aside. In a 350F oven, place the baguette slices on a parchment lined cookie sheet. Bake for about 12 minutes until they become lightly toasted and set aside. Zest one lemon and set the zest aside. Add the cashews, juice of the lemon, apple cider vinegar, water, and salt to a food processor. Blend until smooth, periodically scraping down the sides of the food processor bowl to keep mixture consistent. Next, add the potatoes, garlic, horseradish, milk, olive oil and lemon zest to the food processor and process until smooth. Taste to see if it needs any salt.
Set oven to 400F. Lightly oil a 13×9 baking dish or gratin dish. Spread the mixture evenly into the dish and sprinkle with vegan parmesan. Bake for 20 minutes until the top is golden brown. Serve with the toasted baguette.