Enchiladas are really just another way to enjoy tacos, in a slightly different form. And if you're like me, you can't get enough tacos! So many delicious and colorful variations. Enchiladas are sort of a rolled up taco. The enchilada sauce is usually covering the entire dish, but I like how this looked for the picture so you could see a little more of the dish. You can substitute flour tortillas for the corn tortillas; but I love the flavor of the corn tortillas. Food for Life Sprouted Corn Tortillas are my favorite. But really, any tortillas will do. Of course you can also make your own sauce; but I like using a store bought red sauce and just add my own flavorings. It also saves on time. My go to red sauce is 365 brand Organic Fat Free Marinara. It just doesn't have that extra oil, and I rather save the good fats for some savory avocado.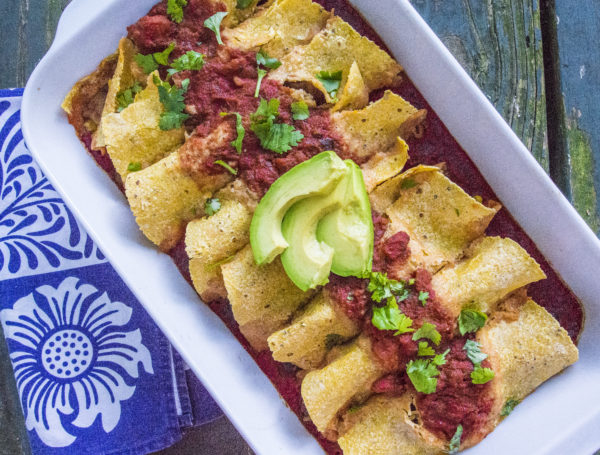 Directions
Pierce the sweet potatoes with a fork and microwave on high for about 4 minutes; then turn them over and microwave for another 3-4 minutes until done. Alternatively, you can peel the sweet potatoes, cut into chunks and roast on a parchment lined baking sheet at 400F for about 25 minutes. If using the microwave method, wait until the potatoes are cool; then remove the skin. Cut into bite size pieces and set aside. Drain and rinse the can of black beans, and add to a large bowl with the cooked sweet potatoes. Microwave the frozen corn in a separate bowl for about 2 minutes. Drain and add to the large bowl with the beans and sweet potatoes. Add the chili powder, garlic powder, salt and maple syrup or agave and mix until everything is well combined.
Heat the oven to 375F. Cover the bottom of a 9″ x 13″ baking dish with a liberal amount of the sauce (about 1 1/2 cups). Warm the tortillas a little bit in a dry hot pan or in the microwave. Fill each tortilla with a few spoonfulls of the filling. Roll them up and set them seam side down in the baking dish. Line them all up in the dish and cover with more sauce. You may want to cover the entire dish with the sauce so that the ends of the tortillas don't get too dry. Cover the dish with foil and bake for 20 minutes. Then remove the foil and bake for about another 5 minutes. Remove from oven and top with some sliced avocado and fresh cilantro.