Beets are such a naturally vibrant food. They help lower blood pressure, fight inflammation, boost energy, have anti-aging properties and are high in fiber. Their sweet flavor comes out when you roast them; releasing their natural sugars. Mixed with the textures of quinoa and walnuts makes these burgers more substantial and are packed with nutritious plant protein. The key is to not over-process the ingredients because they can become too mushy. Top with guacamole, and add a side of baked fries for a healthy, tasty summer dinner.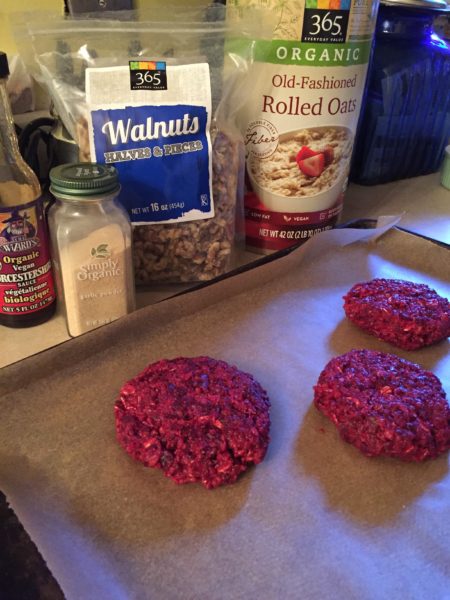 Directions
Preheat the oven to 350 F. Place the chopped beets on a parchment lined baking sheet and roast for 30 minutes. Remove from oven and set aside to cool. Once cooled, place the beets into a food processor. Pulse a few times to keep some texture and not mash them. Next, add the flaxseed meal to a small bowl with the water and stir. Let it sit about five minutes to thicken. This will act as a binder and is a good replacement for eggs. Transfer the beets to a large bowl and add all the other burger ingredients. Stir well to combine and taste to see if it needs more of any other seasoning. If it's too mushy, add more oats. Shape the burgers and place them on a parchment lined baking sheet. Bake them at 350 for 15 minutes; then turn them over and bake for another 15 minutes.
While the burgers are cooking, you can make the guacamole. Cut the avocados in half, remove the pit and scoop out the avocado. Put the avocado in a medium bowl and mash a little with a potato or avocado masher, or a fork. Add the lemon or lime juice, garlic powder and salt. Mash everything together to blend well, but leave the texture a little chunky. Add more lemon, garlic powder or salt as needed.
When the burgers are done cooking, top them with the guacamole and serve on a bun.