Baru nuts are a delicious nut from South America. I heard about these nuts on the Rich Roll podcast a few years ago when his guest, Darin Olien, was talking about his latest superfood discovery that he then made into his company, Barùkas. He was able to import these nuts into North America, while simultaneously helping preserve the area in South America from the cattle industry deforestation, where these are grown. These nuts have more fiber than any other nut; 6 g protein with all essential amino acids; and they are lower in calories with 25% fewer fat calories than other nuts. They have a nice roasted flavor, so I decided to use these in my recipe over other nuts. The flavor was really great in these burgers and I didn't need to season them as much as if I had used other nuts. Great for snacking of course, so definitely give them a try! You can order them online at barukas.com.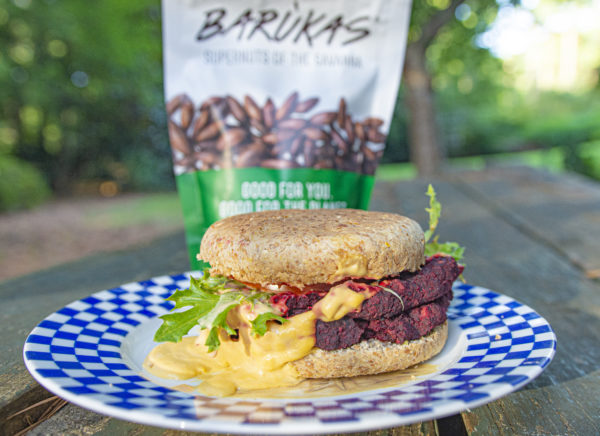 Directions
Preheat the oven to 350F. Place the chopped beets on a parchment lined baking sheet and roast for 30 minutes. Remove from oven and set aside to cool. Drain the Barùka nuts and remove and discard skins. Place the beets and Barùkas into a food processor. Pulse a few times to keep some texture and not completely mash them. Add the beans, barbecue sauce, garlic powder and sea salt, and continue to process until preferred consistency. Next, add the flaxseed meal to a small bowl with the water and stir. Let it sit about five minutes to thicken. This will act as a binder and is a good replacement for eggs. Transfer the beet mixture to a large bowl and add the flax mixture. Stir well to combine and taste to see if it needs more of any other seasoning. Shape into six patties and place them on a parchment lined baking sheet. Bake them at 350F for 15 minutes; then turn them over and bake for another 15 minutes.
While they are finishing baking, combine all the cheese sauce ingredients to a high speed blender and blend until smooth. Top onto your burger along with your favorite toppings!