This is such a fun food to nosh on while watching a game on tv. But unlike usual nachos that you might order out somewhere, these are guilt free and without any cholesterol. Piling on a rainbow of beautiful veggies adds a lot of texture and flavor, and makes the dish an easy way to get several servings of vegetables and fiber without even realizing it. The lentils are high in protein too, so this is a win-win dish.
Directions
Preheat oven to 400F. Cut the corn tortillas into triangles and place on a baking sheet. Sprinkle with salt & pepper. Bake for about 10 minutes. When the tortillas are done, arrange them on a dish and top with the lentils. Pour some warm queso over everything. Then top with the tomatoes, cabbage, avocado and greens – or any colorful veggies of your choice. (Added in some of my leftover cauliflower rice with dragonfruit powder that I had used from a sushi recipe in this pic below). Have fun experimenting with colors and flavors! Serve warm.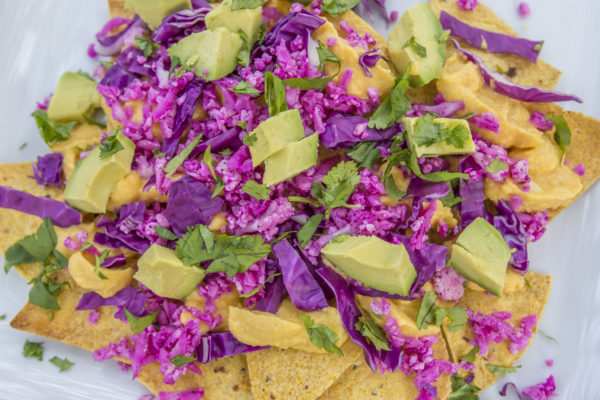 Butternut Squash Queso
Add the cubed butternut squash and cashews to a pot and cover with water. Bring to a boil, lower the heat to medium, and simmer for about 20 minutes or until the squash is tender. You can also microwave frozen squash according to the directions on the package; or roast the squash at 400F for about 20 minutes. The cashews can be soaked in water for 6 hours or put in boiling water for 15 minutes. When the squash/cashews are done, drain and pour into a high speed blender. Add the remaining ingredients to the blender. Blend until completely smooth.