Looks like traditional ham; but it is celeriac. It's the celery root that you can find in the produce section of the grocery store. It's versatile like cauliflower and basically, this is just a roasted vegetable with seasonings. Admittedly, it looks very similar to a holiday roasted ham; which is a little weird. But that's the intention. Some people wonder why vegans would want to make any food look or taste like meat. My take on it is that some people who wish to eat plant based and might miss some of the traditional foods they are used to, might want to have something that looks familiar to them; without using any animal products. I also think it is a really fun challenge to make veggies looks like non-vegan food, and of course, also taste good. You can use this as you would cold cuts on a sandwich. I used it in my Croque Madame recipe and it was fantastic.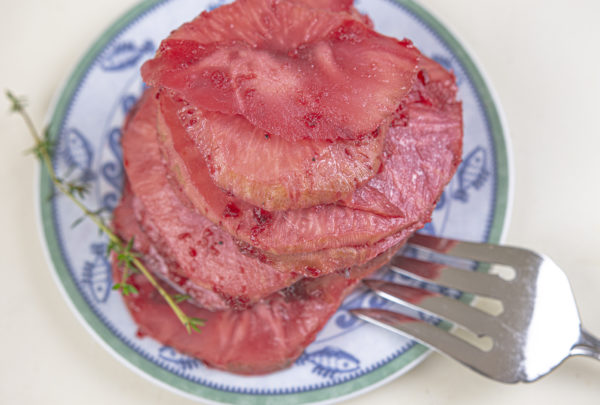 Directions
Preheat oven to 400F. Peel the beet and cut into cubes. Arrange in a single layer on a parchment lined cookie sheet. Roast for about 15-20 minutes then remove from oven and set aside.
Lower the oven temperature to 350F. Place the peeled celeriac in the center of an oven safe dish. Combine the broth, maple syrup, soy sauce, worchestire sauce and liquid smoke into a bowl and mix with a spoon. Pour this mixture into the dish with the celeriac. Coat celeriac with the olive oil and season with salt and pepper. Cover with foil and bake for 1.5 hours, occasionally opening the oven and pouring the liquid in the pan over the celeriac with a gravy spoon. When done and celeriac is tender when pierced with a fork, remove the dish from the oven and place the celeriac on a separate dish to cool a bit; reserving the liquid in the baking dish. In a small food processor, add the beets and a little water if needed, and pulse to purée the beets. Alternatively, you can finely chop the beets. Add the beets to the liquid in the pan and set aside for about 15 minutes. Thinly slice the celeriac and then add it to the dish of the liquid and let it marinate for about 10 minutes. Then discard the liquid and remove any pieces of the beets on the sliced celeriac. Add these slices to your favorite sandwich, or warm some slices back in the oven for a few minutes and serve with mustard.