I love the sophisticated elegance of this appetizer. It's really incredible how the carrots mimic smoked salmon and  it makes a tasty and appealing appetizer. It pairs perfectly with the tangy cashew cream cheese. You could also enjoy this on a bagel!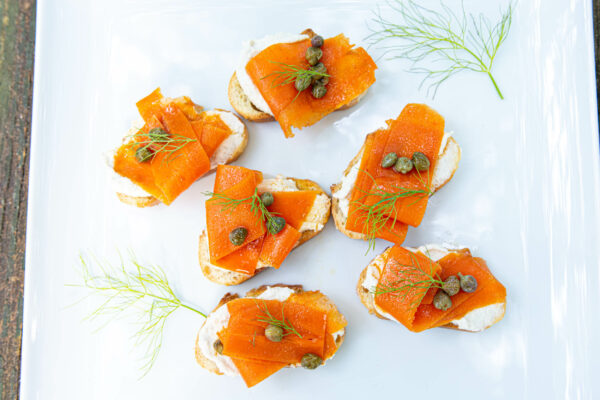 Directions
Cut off the ends of the carrots and use a vegetable peeler to remove the outer skin. With the same peeler, peel ribbons of the carrots. Smaller pieces are fine too. Next, to create the marinade: in a bowl, combine the soy sauce, olive oil, rice vinegar and smoked paprika. Set aside. In another bowl, add some cold water and place the bowl of water in the refrigerator for a few minutes. You'll need this for the next step to blanch the carrots.
Bring a pot of water to a boil. When boiling, add in the carrot ribbons. Grab the bowl of cold water to have right by the pot. Boil the carrots for about a minute; then with tongs, remove the carrots and immediately place them in the bowl of cold water. After a minute, drain the carrots, and add them to the marinade and toss to combine. Set aside.
Next, to make the cashew cream cheese, add all of the cashew cream cheese ingredients to a food processor. Process until smooth, scraping down the sides of the bowl as needed. Place into the refrigerator until ready to use.
Heat oven to 350F. Slice baguette into 1/4″ slices and arrange on a parchment lined baking sheet. Brush the slices with olive oil. Bake for 7 minutes. When cooled, spread the cream cheese on the toasts. Add a few pieces of the carrot lox. Top with some fresh dill. Serve at room temperature.